Southpaw Brewery Box – One-Off Exclusive
$79.95
-13%
Sale!
Southpaw Brewery Box – One-Off Exclusive
$79.95
-13%
Available now!
This is a rolling doz – with the newest beers added. May change to the list below or the image – but always super awesome!
For a limited time get the freshest batch of our best beers delivered straight to your doorstep for only $69.95 delivered*!
Refresh yourself with the spicy, hoppy Saison, a fruity sweet and Sour and some big heavy hazies, red and west-coast IPA's in this month's Kiwi Brewery Club from our mates Cam and Penny at Southpaw Brewing In Christchurch.
In this Southpaw box:
5 x BIG 440ml
🎉 1x FRESH HOP Fall Classic – Fresh Hop Hazy (NEW RELEASE)
🎉 1x FRESH HOP Fresh Hop Pale Ale (NEW RELEASE)
🎉 2x Holy Roller Hoppy Saison 5.5% (NEW RELEASE)
🎉 1x Crooked Number Stone Fruit Sour 5% (NEW RELEASE)
7x 330ml
🎉 Say Hey Kid IPA 6.5%
🎉 Riding Pine Red IPA 5.5%
🎉 Shake Down NZ Pale Ale 4%
🎉 Uncle Charlie APA 5.9%
🎉 Quick Pitch Hazy Pale Ale 5%
🎉 Noble Art Pilsner 4.8%
🎉 New Brighton Lager 4.5%
*+$4.95 for rural delivery, +$3.95 for Sth Island delivery
* NOTE – We do our very best pack this selection as listed, but some beer may be substituted due to unforeseen issues. Any changes will still be super awesome however!
In stock
Additional information
| | |
| --- | --- |
| Weight | 6 kg |
| product | 24x 330ml bottles |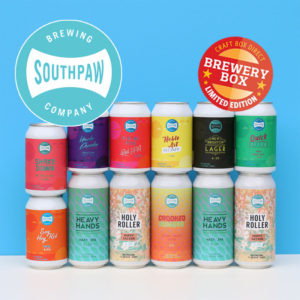 Southpaw Brewery Box – One-Off Exclusive