Cowabunga – RADICAL RPA – Keg – Pickup Only
$200.00 – $524.00
Cowabunga – RADICAL RPA – Keg – Pickup Only
$200.00 – $524.00
RADICAL RPA – 5% – 40IBU – Keg Only
Keg Sizes: 20L DKeg, 19L Corny, 50L DKeg
Purchase online here then Pickup from our Morningside Auckland Brewery:
Pickup Address:
11 McDonald Street, Morningside / Sandringham, Auckland 1025
Beer Description
This award winning beer ain't your typical pale ale. The rye we've added really cranks things up. Like going from an ollie to a kickflip, things get… more complex but infinitely more RADICAL. Take off the knee pads and give it a go!
Refundable D-Keg Deposit Needed if you don't already have an existing deposit.
1 Keg deposit needed per keg purchased
Keg Deposit not needed if you are bringing in an empty keg to swap/buying a full one
Keg Deposit not needed if you are bringing your own Corny Keg in for a fill.  Bring it Clean.
If you do not purchase a keg deposit you will need to when picking up your kegs.
Keg deposit is refundable when  bringing in an empty keg and not swapping for a full one.
Keg Sales are aimed at local Auckland customers – but if you are happy to drive from out of town to pickup / return kegs then by all means go for it!
Additional information
| | |
| --- | --- |
| Please choose keg size | 19L Corny Keg, 20L Keg, 20L Keg + Deposit, 50L Keg, 50L Keg + Deposit |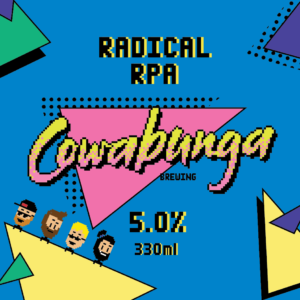 Cowabunga – RADICAL RPA – Keg – Pickup Only