Cowabunga – GNARLY NZIPA – Keg – Pickup Only
$200.00 – $524.00
Cowabunga – GNARLY NZIPA – Keg – Pickup Only
$200.00 – $524.00
GNARLY NZPA – 5.2% – 35IBU – Keg Only
Keg Sizes: 20L DKeg, 19L Corny, 50L DKeg
Purchase online here then Pickup from our Morningside Auckland Brewery:
Pickup Address:
11 McDonald Street, Morningside / Sandringham, Auckland 1025
Beer Description
Jumping the Springfield Gorge on a skateboard is pretty GNARLY but so is breaking your leg in five places. This beer goes down smooth either way. Everything we have funneled into this classic pale ale comes straight from Aotearoa. We think that's pretty gnarly too.
Refundable D-Keg Deposit Needed if you don't already have an existing deposit.
1 Keg deposit needed per keg purchased
Keg Deposit not needed if you are bringing in an empty keg to swap/buying a full one
Keg Deposit not needed if you are bringing your own Corny Keg in for a fill.  Bring it Clean.
If you do not purchase a keg deposit you will need to when picking up your kegs.
Keg deposit is refundable when  bringing in an empty keg and not swapping for a full one.
Keg Sales are aimed at local Auckland customers – but if you are happy to drive from out of town to pickup / return kegs then by all means go for it!
Additional information
| | |
| --- | --- |
| Please choose keg size | 19L Corny Keg, 20L Keg, 20L Keg + Deposit, 50L Keg, 50L Keg + Deposit |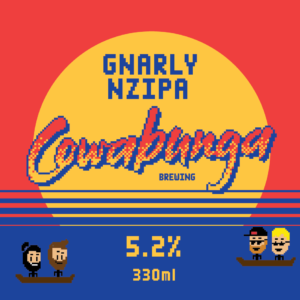 Cowabunga – GNARLY NZIPA – Keg – Pickup Only